Mendocino Farms is a fast-casual chain that prides itself on using fresh ingredients with unique flavor combinations to create artful sandwich combinations.
This franchise first opened as a family business in 2005, and now has over 60 locations including Southern California, the Bay Area, Sacramento, the Dallas Fort Worth Area, and Seattle.
At the heart of Mendocino Farms lies a deep appreciation for high-quality, locally sourced ingredients.
With a focus on sustainability and a connection to local farmers, Mendocino Farms takes pride in offering food that is not only delicious but also ethically produced.
The farm-to-table philosophy is not just a trend for them; it's a way of life.
Mendocino Farms only uses meat from humanely-handled animals that are vegetarian or grain-fed. Its fruits, vegetables, and bread are sourced locally or from family farms whenever possible.
From the freshly baked bread to the vibrant vegetables, each element of their sandwiches and salads is carefully selected to ensure the utmost quality and flavor.
What truly sets Mendocino Farms apart is their innovative sandwich combinations. Gone are the days of mundane lunch options.
Picture this: juicy, free-range chicken paired with tangy goat cheese, marinated beets, and arugula, all nestled between slices of freshly baked ciabatta. Or perhaps you're in the mood for a vegetarian option like their "Vegan Banh Mi," featuring a tantalizing blend of lemongrass tofu, pickled daikon, and a symphony of herbs and spices.
Mendocino Farms also caters to various dietary preferences, offering gluten-free bread and an array of vegan options that are just as delightful and satisfying as their meat counterparts.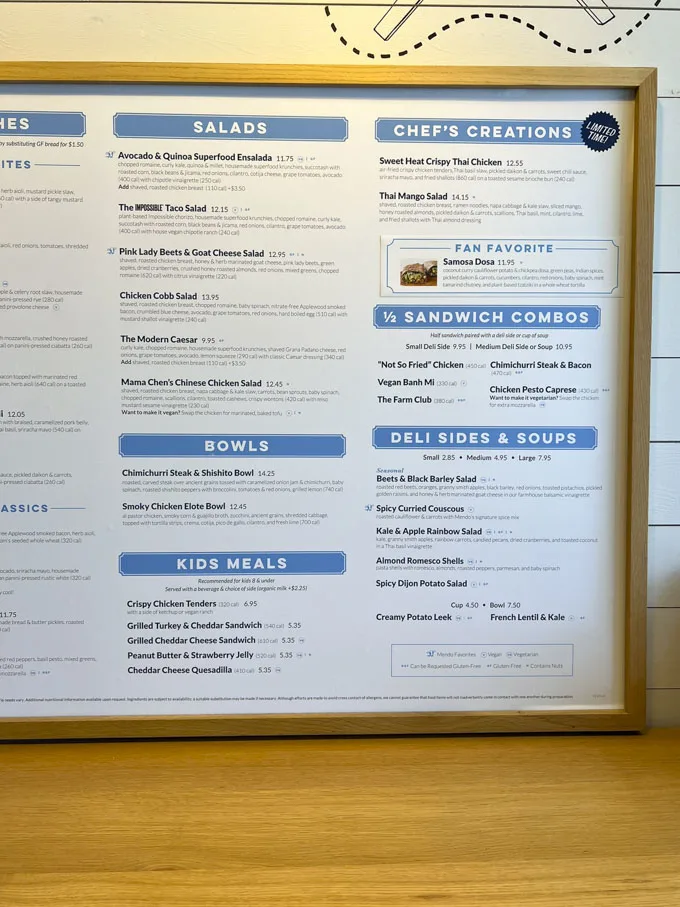 Mendocino Farms has several housemade beverages, including rose lemonade, classic lemonade, Thai turmeric lemonade, passion fruit black tea, and green juice with kale, cucumber, arugula, and ginger.
We enjoyed the "Not So Fried" Chicken featuring shaved, roasted chicken breast topped with Mendo's krispies; herb aioli; mustard pickle slaw; tomatoes; pickled red onions on toasted ciabatta.
There was also the Samosa Dosa with coconut curry cauliflower potato & chickpea dosa, green peas, Indian spices, pickled daikon & carrots, cucumbers, cilantro, red onions, baby spinach, mint tamarind chutney and plant-based tzatziki in a whole wheat tortilla.
The Farm Club was also good and it had shaved, roasted turkey breast; smashed avocado; nitrate-free Applewood smoked bacon, herb aioli; tomatoes; mixed greens; pickled red onions on Mom's seeded whole wheat.
My kids have enjoyed their grilled chicken tenders and grilled cheese sandwich kids meals.
Whether you're grabbing a quick lunch during a work break or enjoying a leisurely weekend brunch, Mendocino Farms offers a space where time seems to slow down, allowing you to savor every bite and moment.
Here are some more photos from our visits to Mendocino Farms.