Known as the "Nation's Oldest City," St. Augustine, Florida has more than four centuries of history that owes much to the Spanish and English, to Greeks and Native Americans as well as African Americans.
The city boasts historic charm, hundreds of family-friendly tourist attractions, miles of white, sandy beaches and an eclectic array of locally owned boutiques, farm-to-table restaurants, craft cocktail bars and more.
Want some ideas for the ideal Florida vacation? Here are Top Things to Do in St. Augustine, Florida in 2021.
Before you go…
Please plan ahead before visiting as each destination or business might have different health & safety guidelines.
1. Climb 219 steps to the top of the St. Augustine Lighthouse
The climb to the top of the St. Augustine Lighthouse is worth it as you will take in the breathtaking views of historic downtown St. Augustine, the beaches and the Old Port.
While you are there, learn more about St. Augustine's rich maritime history and explore exhibits in the Lighthouse Keepers' house.
Hands-on activities for all ages are available indoors and outdoors at the site. The Museum offers daily demos about boat building and maritime archaeology. You can also visit shipwreck artifacts being conserved in the lab.
The Museum also hosts specialty tours and experiences for guests to get a deeper look at the maritime heritage including the Lighthouse Keepers' Tour, Dark of the Moon Ghost Tour, Sunset Moonrise Tour and more.
Admission Prices: General $12.95; Kids 12 and younger $10.95; and Seniors $10.95. www.staugustinelighthouse.org
2. Zipline over alligators at St. Augustine Alligator Farm
Ziplining is a thrilling experience in itself but what about taking it to the next level by flying over live alligators and crocodiles?
The St. Augustine Alligator Farm Zoological Park offers the Crocodile Crossing Experience where you zip through treetops, conquer aerial obstacles, and get a birds-eye view of the animals at the zoo.
Imagine live alligators and crocodiles right under your toes; tropical birds in front of your eyes; and red-ruffed lemurs by your side.
There are two courses available: Sepik River ($37) (45 minutes, 9 zip lines, 35 feet high) or the more challenging, Nile River ($67) (90 minutes, 17 zip lines, 35 feet high). www.alligatorfarm.com/crocodile-crossing
3. Drink from Ponce de León's Fountain of Youth
With guest books dating back to 1868, Ponce de León's Fountain of Youth Archaeological Park is the oldest attraction in Florida. It's also chock-full of history.
In 1513, Ponce de Leon discovered the waters the Foutain of Youth. Legend has it that a drink from the waters will bring you eternal youth.
The park also boasts 15 waterfront acres filled with lush gardens and nearly 30 beautiful peacocks that strut their stuff for visitors.
Other exhibits at the park include the Discovery Globe, Planetarium, Timucua Native Americans Village Exhibit, and more.
It is recommended to allow at least two hours to explore the park at your leisure.
Admission Prices: Adults $15.95; Kids ages 6 – 12 $8.45; and Seniors $15.02. www.fountainofyouthflorida.com
4. Sample small-batch spirits at the St. Augustine Distillery
Housed in a renovated ice manufactuing plant from 1917, St. Augustine Distillery is known for their artisanal vodka, gin, rum and bourbon made with Florida ingredients.
The distillery also offers a free tours and tastings 7 days a week with no reservation required.
The tours give you the opportunity to see how the distillery makes their spirits from farm to bottle. Watch the distilling team bottle finished spirits by hand and smell the amazing aroma of fermenting "sweet mash."
Before you leave, be sure to take some selfies with the stills and bourbon barrels. www.staugustinedistillery.com
5. Get a taste of St Augustine on a foodie tour
Eat your way through St. Augustine's authentic cuisine which is highlighted by a year-round abundance of fresh seafood and blended flavours from centuries of diverse heritage.
The Tasting Tours hosts 3-hour food and drink pairing tours, that celebrate the exciting culture and exploration of St. Augustine's culinary scene.
Eat, drink and experience St. Augustine with a local-neighborhood foodie tour and culinary adventure. You can choose from Walking tours, Roadster (riding) Tours or even a Horse Drawn Carriage ride!
6. Stay in a historic accomodation
Did you know that St. Augustine has more than 25 historic hotels and bed & breakfast inns? You'll find these charming and very often romantic retreats as good reasons to visit St. Augustine.
Here are a few suggestions on where to stay in St. Augustine:
Marker 8 Hotel & Marina
Located in the historic Downtown are of St. Augustine, The Marker 8 Hotel & Marina is an ideal basepoint for your travels.
Marker 8 Hotel was renovated in 2017 and boasts magnificent views of the Downtown skyline, an intimate garden space, a new poolscape and cantilevered boardwalk.
Enjoy a unique stay in one of their 26 elegantly themed rooms, each with a unique view, rain showers, modern furnishings and more.
Take a stroll across the beautiful Bridge of Lions and you will reach Aviles Street (mentioned above) within 15 minutes.
Reviews on Marker 8 Hotel show a 5/5 rating and is ranked #1 out of 82 hotels in St Augustine on Trip Advisor. www.marker8hotel.com
The Kenwood Inn
Built in 1865, The Kenwood Inn boasts elegance, comfort and Victorian charm as it is the city's oldest bed & breakfast.
Individually decorated guest rooms feature hardwood floors, four-poster and antique beds for a mix of Old Florida elegance with a hint of the tropics.
The inn is kid and pet-friendly and guests can enjoy complimentary bikes for exploring the city and beach towels and chairs for a beach excursion.
Reviews on Kenwood Inn show a 5/5 rating and they have received a TripAdvisor Traveller's Choice Award. www.thekenwoodinn.com
7. Take a stroll on the oldest street in America: Aviles Street
Aviles Street is considered to be the oldest street in America with its history dating back to the late 16th Century. It's also the early home to St. Augustine's Arts District.
There you will find shops, restaurants, historic architecture and several galleries with all styles of art, jewelry, handmade leather goods, boutiques, antique shops, and more. Carriage rides are also a fun way to explore the area.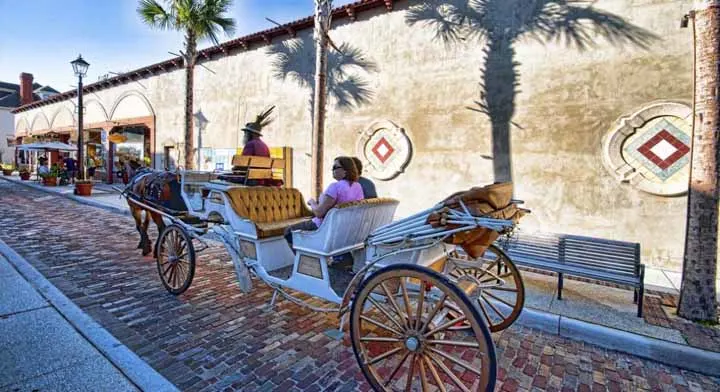 Some historic highlights nearby include the O'Reilly House (one of the oldest structures in St. Augustine) and the Spanish Military Hospital Museum (where you can learn about the early medical practices of the Spanish).
The newest eatery on Aviles, Forgotten Tonic, is open daily for lunch and dinner and features modern twists on comfort food, an extensive wine list and craft cocktails. And like all eateries on Aviles Street, you can dine al fresco on the oldest street in the nation.
8. Explore St. Augustine by air through parasailing
Soar above the Atlantic Ocean with amazing views of downtown St. Augustine, Anastasia Island, and Vilano Beach through an exhilarating parasailing experience.
St. Augustine Parasail offers a beginners package where you fly at 500 feet of line released or an adventurer package where you fly at 1,000 feet of line released.
St. Augustine Parasailing resumes for the season Spring 2021. staugustineparasail.com
9. Soak up the sun at St. Augustine Beach
St. Augustine Beach is the most popular beach in the city with a beachfront park, a large beachside pavilion, a splash park, and a sand volleyball court.
Relaxing on the beach is easy with beach chairs and umbrella rentals readily available through Barney's Beach Service.
Other beach activities suggestions include surfing, boarding, bike riding, and swimming.
Dogs are even allowed on the beach as long as they are on a leash. You can even drive on the beach in designated areas depending on tides and weather conditions.
10. Visit Potters – the first established wax museum in America
Touted as the first established wax museum in America, Potter's has been entertaining visitors to St. Augustine for more than 50 years.
The museum features more than 160 wax figures of famous and infamous people including actors, athletes, and politicians.
There are plenty of Instagram moments with these famous characters out of history and entertainment.
Admission Prices: Adults $11.50; Kids ages 6 – 12 $6.70. www.potterswax.com
11. Explore African-American History and Heritage
As the Nation's oldest continually occupied city, St. Augustine has a very rich and significant history for African-Americans. Here are a few places where you can learn more.
Fort Mose Historic State Park
Fort Mose Historic State Park is recognized as one of the original sites on the southern route of the Underground Railroad. In 1994, Fort Mose was designated as a National Historic Landmark.
You can experience tours, a museum full of history, an interpretive exhibit, and many opportunities for enjoying the natural beauty of the site.
The admission is free and the park is open 9 am – 5 pm all year. www.floridastateparks.org/parks-and-trails/fort-mose-historic-state-park
Lincolnville Museum & Cultural Center
Located in the southeast corner of downtown St. Augustine, the Lincolnville Museum & Cultural Center is in the heart of Lincolnville, a community built by ex-slaves and freedmen in the post-Civil War era.
The building is on the National Register of Historic Places and serves as a repository for African American History and culture in Northeast Florida.
Admission Prices: Adult $10; Kids ages 17 and under or college students $5. www.lincolnvillemuseum.org
12. Buckle your swashes for the St. Augustine Pirate Museum
If you've ever been curious about pirate culture, you must check out the St. Augustine Pirate & Treasure Museum which has the world's largest collection of authentic pirate artifacts.
This exciting and educational museum experience will take you back over 300 years to the Golden Age of Piracy.
Some highlights include the recreated Main Deck of a pirate ship; learning how to tie knots in ropes; raising the Jolly Roger (or Pirate Flag); finding the hidden Discovery Drawers; smelling the ship's stolen cargo and more.
Admission Prices: Adults $12.99; Kids $6.99; and Seniors $12.99. thepiratemuseum.com
13. Step inside the Castillo de San Marcos
Castillo de San Marcos is a national monument and the oldest masonry fort in the continental US.
This fort has been standing since 1695 and was built to protect and defend Spain's claims in the New World.
As one of the main attractions in St. Augustine, Castillo de San Marcos sits on a 20.5-acre national park where you can step inside of the defense walls of the fort.
Admission Prices: Adults $15; Children 15 and under are free with paid adult. www.nps.gov/casa/index.htm
14. Sail the sea at sunset on the Schooner Freedom tall ship
Enjoy the romance of historic St. Augustine by taking a sunset sail on the 76-foot Schooner Freedom – St. Augustine's only tall ship.
The two-hour sailing experience features music, sunset-drenched landscape and wind in the sails.
You are also welcome to help set sail and maybe even take the helm. Look out for dolphins as well while you're aboard.
The ship departs daily from the City Marina. Rate is $55 per person. Check the website for departure times. www.schoonerfreedom.com
---
For more Florida travel inspiration, check out the following: