New York City is not to be taken lightly, or quickly. Yes, it is a fast-paced city, to be sure, but pace yourself! She is rugged and fearless, and this fabulous concrete jungle can wear out even the heartiest of travelers. That said, New York City is one of the greatest cities in the world to visit.
It's best to be strategic, for New York offers something for everyone. And I do mean everyone. This is not a town for lethargic wanderings, it's best to have a plan, as there is just so much to experience. Is it history, shopping or great music you're looking for? Fantastic water views? How about theatre?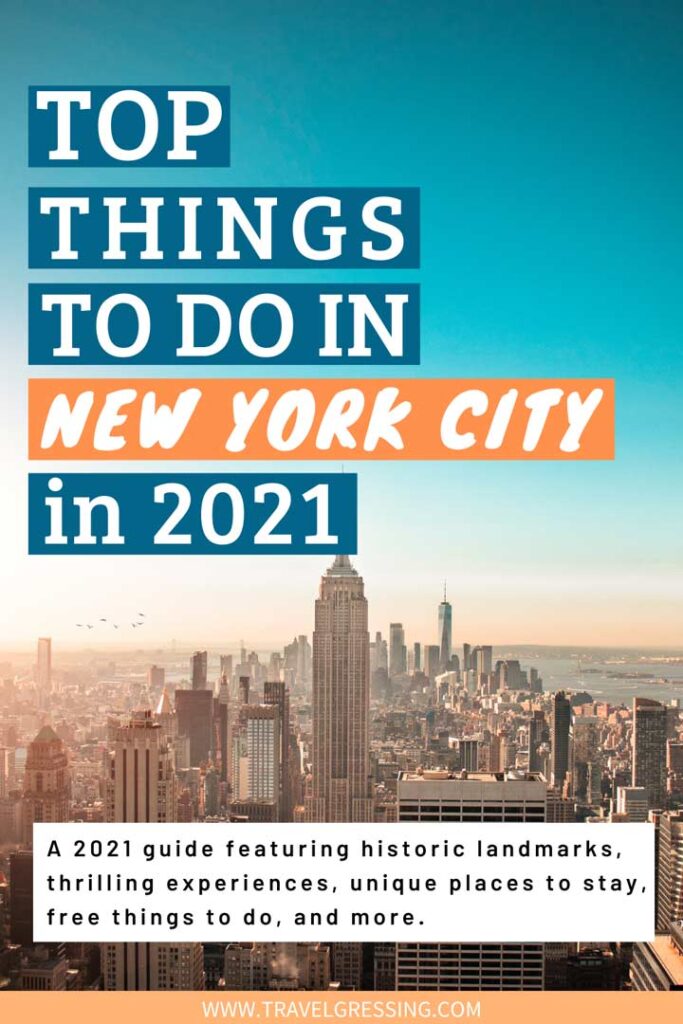 Planning a trip to the Big Apple? Here are top things to do in New York City in 2021.
1. See New York City from above
New York City's ever-changing skyline is worthy of seeing on each and every visit to the city.
See New York City from above via newly opened observatories, museums, shopping outlets and amusement parks, ad more.
You can pair amazing views with a range of culinary, art, shopping and adventurous experiences. Check this post on 30 ways to see New York City from above.
2. Visit the Statue of Liberty
This national monument is a National Park, and visitations are limited, especially if you opt for ascending Lady Liberty, so it's best to make reservations well in advance.
You will learn the history of the statue and early America's relationship to France. Simply standing at the base of the statue and looking up is quite a moving experience.
While you are there, visit the Statue of Liberty Museum, including a climb to the building's green roof, which offers unobstructed views of Lower Manhattan and Liberty Island, including the statue herself.
3. Stroll the famous SoHo
For some of the best shopping in town, stroll the famous SoHo, with both high-end designer shops and independent boutiques.
When you need a break from the epic shopping, stop for a locally-roasted coffee, and perhaps a bite of lunch at one of the cafes. The SoHo neighborhood is ripe for exploration.
4. Pay homage at World Trade Center
No first-timer's trip to New York would be complete without paying homage to the fateful day of September 11, 2001.
See the glorious monolithic building that is the new World Trade Center, and visit the memorial plaza and museum.
Take in the grandeur of the grounds – you cannot help but be moved by it all. Inside the ground floor of the WTC is more great shopping, with underground tunnels sure to give you some retail therapy.
Be sure to check out the One World Observatory which boasts views from the tallest building in the Western Hemisphere.
5. Cruise along the Hudson River
For an incredible view of Manhattan from the water, take one of several different river cruises around Manhattan along the Hudson River.
Depending on your interests, there are sunset, dinner, afternoon, history and jazz cruises, just to name a few. It is a fantastic way to soak up the city's iconic skyline.
6. See the lights of Times Square
Yes, Times Square may be considered a tourist trap by many, but you have to visit, if only once. The lights, the glory, the sights – it is truly a super-sensory experience.
The Square has become a lot safer over the last couple of decades, when once it was looking pretty seedy. But today, it is not uncommon to see entire families strolling around, even at midnight.
7. Explore the Museum of Natural History.
The Museum of Natural History is a great place to take the entire family, will make a great date stop, or even a solo adventure.
Book tickets advance online for the best chance at seeing one of the best natural history museums on the planet.
Interactive and rotating exhibits, as well as permanent installations, will ensure you will not be bored for a second.
Admission Prices: NY, NJ and CT residents pay what you wish; Adults $23; Child (3 – 13) $13; Senior & Students $18. www.amnh.org
8. Take a break at Central Park
Central Park is a true garden oasis in the heart of Manhattan. It's a wonderful respite when you need to take a break. But this park is large, and is the most visited park on the planet.
Stroll through Strawberry Fields, Sheep Meadow and Bethesda Terrace – just a few of the sights to visit here. You can even download an app on your mobile device and take a self-guided walking tour of different areas of the park.
9. Support Black-owned businesses in New York City
Standing behind Black-owned businesses can make a difference now more than ever. From artisans, retail, restaurants, wellness and more, here are a few resources showcasing Black-owned businesses in New York City:
10. Get a taste of the Old World in Little Italy
Since the 1880's the Italian's have brought a genuine taste of the Old Country to lower Manhattan. Here you will find an abundance of authentic Italian restaurants, run by generations of Italian immigrants, offering the best pasta outside of Italy. Nicknamed Nolita, there is also some great shopping and bars in this neighborhood.
12. Explore the Chelsea Neighbourhood
In fact, the Chelsea neighborhood is iconic in that some of the world's most prolific artists have lived here, such as Bob Dylan, Andy Warhol, Jim Morrison, and Mark Twain, among others. Walk the streets lined with historic brownstones (some of which are owned by New York's elite) and simply absorb the essence of authentic NYC.
13. Walk up to the High Line
Also located in Chelsea, the High Line is a public park that opened in 2009, and is unique in that it is an elevated promenade experience. It begins in the meatpacking district of Greenwich Village, then continues north through Chelsea, stretching even further uptown.
Along the way, strategically placed trees give atmosphere and shade, and public works of art are scattered throughout. There are places to stop for coffee and/or lunch, as well as the occasional shop.
14. See the 8th Wonder of the World
Deemed "the 8th Wonder of the World," the Brooklyn Bridge is such a treat to walk, bike or drive this bridge. There are many photo ops along the way, and if you are heading towards Brooklyn, be sure to reward yourself on the other side by stopping at Grimaldi's Pizzeria for a slice.
15. Dine at Balthazar
For a fantastic meal, Balthazar is a top pick and a destination unto itself. It's the quintessential New York (French) dining experience that is upscale, yet affordable.
With all of the breakfast and lunch entrees you might expect, taken up a notch! Also, their patisserie menu is out of this world.