One of the best places to go for New Year's Eve in the Pacific Northwest is Seattle. On New Year's Eve, the Seattle Space Needle is the site of a spectacular fireworks show.
Fireworks and lighting fixtures were installed from the bottom of the Needle to the top by Pyro Spectaculars for this year.
How long is the New Year's Eve fireworks show?
The New Year's Eve fireworks is 10 minutes long and blasts off at 11:59 p.m on December 31. New this year are spectacular light shows every hour on the hour from 7 pm – 10 pm on December 30 and 31.
Where to Watch Seattle New Year's Fireworks?
1. Seattle Center Campus
You can get up close and personal to the Space Needle by watching from the grounds at Seattle Center.
2. Inside the Space Needle
You can also watch the fireworks from within the Space Needle as the show around you. Enjoy appetizers, desserts, a hosted drink and a glass of champagne at midnight. Tickets can be purchased online and are $275 USD per person.
3. Alki Beach
Take in some amazing views of the Seattle Skyline from Alki Beach which is located west of Downtown Seattle. If you love to get cozy on a beach, this spot is deal for watching the fireworks.
4. Kerry Park
The Space Needle can be seen from this neighbourhood park in Queen Anne along with spectacular views of Elliott Bay, CEntral City and Mount Rainier.
5. From a cruise
Argosy Cruises offers special New Year's Eve cruises featuring live on board music, champagne toast at midnight, and a full service bar. Tickets are between $50 – $90 USD and can be purchased here.
6. Chihuly Garden & Glass
The Chihuly Garden and Glass is hosting a New Year's Eve event where you'll dine, dance and delight in the most extraordinary view of Seattle's most iconic fireworks display through the glass ceiling. Tickets are $250 USD per person and are available here.
7. Toulouse Petit Kitchen & Lounge
Toulouse Petit Kitchen in Queen Anne is taking reservations for New Year's Eve which includes a view of the fireworks show.
8. Inn at the Market
The rooftop deck at the Inn at the Market is an amazing vantage point for the fireworks show as well as Downtown Seattle, Pike Place Market and Elliott Bay.
9. Holiday Inn Seattle
Located just five blocks from the Space Needle, the Holiday Inn Seattle is a great place to stay if you want to be close. Check with reservation to ensure your room as the perfect view.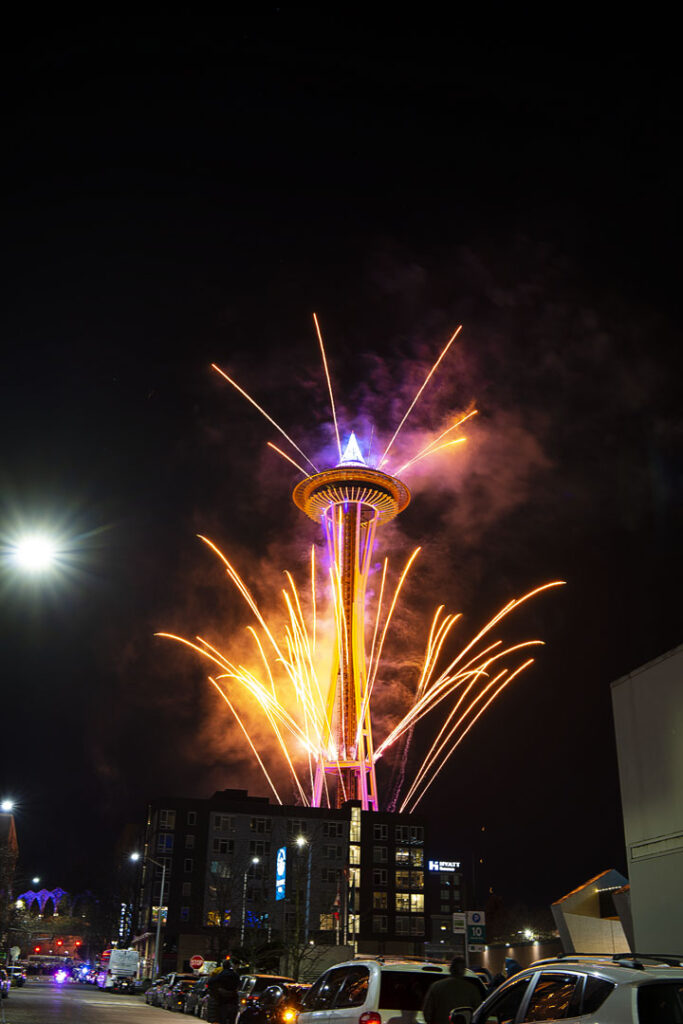 My personal experience with Seattle Space Needle New Year's Eve
My family and I watched the fireworks show last year for New Year's Eve 2018 and it was a great little trip from Vancouver, Canada.
We stayed at La Quinta Inn & Suites Seattle Downtown which is less than 15 minutes walk to the Space Needle.
The pictures I have put in this post are from where we stood to watch the show at John Street and 6th Avenue.
There were certainly lots of New Year's Eve party goers but the energy was good and we had a nice time.
I definitely recommend making the trip to Seattle to see the fireworks.
Happy 2020!