From stunning skylines to world-class wine festivals to endless attractions, it's easy to be "sleepless in Seattle." Here 20 top things to do in Seattle in 2020.
---
LIST: 20 Top Things to Do in Seattle in 2020
---
1. The Loupe at the Space Needle
New to the Space Needle is The Loupe, the world's first and only revolving glass floor. You will be mesmerized by a never-before-seen downward view of Seattle's iconic tower from 500 feet in the air.
The glass floor allows visitors to see the tower's elevators glide up and down the structure as well as watch the mechanical apparatus that drives the floor's rotation.
2. Eat Seattle's New Chocolate and Coffee Tour
Eat Seattle is offering a new Chocolate and Coffee Tour featuring 16 small bites and sips at seven different locations around Seattle such as a bean-to-bar factory, Fran's chocolate and more.
This chef-guided tour highlights the Seattle food scene and educates participants on the history of chocolate and coffee in the city, going in-depth about roasters who have shaped the industry.
3. Seattle Museum Month Returns February 2020
During Seattle Museum Month, travelers who stay at any one of nearly 60 participating downtown Seattle hotels receive 50 percent off admission prices to more than 40 museums and cultural institutions.
February also historically offers lower rates for airfare to Seattle-Tacoma International Airport and special hotel packages to entice winter travelers. To see the full list of participating museums and hotels, visit seattlemuseummonth.com.
4. Visit Amazon's The Spheres and The Understory
Opened in 2018, Amazon's The Spheres serve as a collaborative workspace, featuring 40,000 different plants from around the world, multiple water features, paludariums, and more.
There is also a new onsite restaurant, Willmott's Ghost, which is founded by Chef Renee Erickson – a Seattle native and James Beard award-winning chef.
In addition, Erickson's company, Sea Creatures, has also opened a café and a General Porpoise doughnut shop inside the structure.
The Spheres includes a visitor center on the bottom level called The Understory where guests can experience a fully immersive look at what The Spheres have to offer.
Tours are available to the public on the 1st and 3rd Saturdays of the month, but availability is limited. Learn more at seattlespheres.com.
5. MarketFront at Pike Place Market
Pike Place Market's new MarketFront, a .75-acre, 30,000-square-foot public terrace and plaza that expands to the western part of Seattle's historic Pike Place Market, opened in 2017.
MarketFront offers panoramic views of Puget Sound and the Olympic Mountains, space for 47 new day stall tables for farmers, crafters and artists, as well as 12,000-square-feet of commercial and retail space for artisan purveyors and 40 low-income housing units for seniors.
6. Taste Washington (March 19 – 22, 2020)
Voted one of USA Today's 10-Best Wine Festivals, Taste Washington returns March 19 – 22 and is the nation's largest single-region wine and food festival.
Attendees can sample delicious food from Seattle's hottest chefs and sip some of the state's most incredible wines.
The 2019 festival featured more than 240 Washington wineries and more than 70 of the state's most celebrated restaurants, inspiring Seattle chefs and culinary luminaries from around the nation. Learn more at tastewashington.org.
7. Refract – The Seattle Glass Experience (October 2020)
Refract – The Seattle Glass Experience – returns October 2020 and is a glass art festival featuring a mix of exhibitions, art parties, talks, tours and demonstrations, along with open studios and collector events.
Launched in 2019, the festival featured participating organizations that included Chihuly Garden and Glass, Tacoma Art Museum's Rebecca & Jack Benaroya Wing, Museum of Glass, Traver Gallery, Abmeyer + Wood Fine Art, Stonington Gallery, Glass Art Society, Pilchuck Glass School, Pratt Fine Arts Center, Chihuly Studio, Seattle Glassblowing Studio and Western Neon.
8. Pacific Science Center Debuts New Virtual Reality Experience
Embark on a multi-sensory adventure to one of Saturn's moons in Expedition Titan, a new virtual reality experience now available at the Pacific Science Center.
Expedition Titan spotlights real Titan environments including weather patterns, lakes, black dunes, massive cryovolcanoes and more, all while on a mission to explore and catalog potential flora and fauna.
Equipped with a VR headset and backpack, guests walk through the 3,000 square-foot set while interacting with physical props that translate seamlessly into the virtual world.
No two experiences are the same as each guest's journey depends on how they engage with the story. Learn more at https://www.pacificsciencecenter.org/exhibits/vr-experiences/.
9. The Smokehouse Tasting Flight
Made In Washington, the go-to source for Washington-made gifts since 1984, has launched Seattle's newest food attraction in the historic Pike Place Market.
The Smokehouse Tasting Flight is a bountiful seafood tasting experience that aims to educate Seattle visitors about the differences between Pacific Northwest smoked salmon and what they might be used to elsewhere.
The flight features mouthwatering bites of Pacific Northwest seafood by SeaBear Wild Salmon.
Similar to a wine tasting, for a $5 sampling fee, patrons will receive five different tastes of SeaBear product: Lox (what most think of as smoked salmon), Pacific Northwest smoked salmon (what it has been in the Northwest for centuries), a Smoked Scallop, Smoked Halibut Mousse and the The Smokehouse Slider (SeaBear PNW smoked salmon, AJ's Walla Walla Sweet Onion Mustard, Mama Lil's Pickled Hungarian Goathorn Peppers on an Essential Baking bun). Visit madeinwashington.com to learn more.
10. Newly Remodeled Experience at Sky View Observatory
In June 2018, the Sky View Observatory at Columbia Center debuted its newly renovated observation experience.
Visitors are invited into an exciting new experience from the moment they walk through the doors, witnessing a redesigned entrance and atrium with a grand staircase, first-floor ticketing, and a direct-access elevator to the observatory at the 73rd floor.
Once upstairs, they will be invited to take in the stunning 360-degree panoramic view, with updated technology to act as a virtual tour guide of what they are seeing – Mt. Rainier, Mt. Baker, the Cascade and Olympic Mountains, Seattle, the Space Needle, and more.
Also updated is the food and beverage experience, with craft cocktails, beer, wine, and light bites. More information is available at skyviewobservatory.com.
11. APOLLO, The Exhibit at Museum of Flight
The APOLLO exhibit at the Museum of Flight is the first public display of the long-lost rocket engines that launched the Apollo astronauts to the Moon.
The historic Apollo 12 and 16 F-1 engines that boosted the mighty Saturn V Moon rockets were lost at the bottom of the sea for 43 years until discovered and raised by Seattle-based Bezos Expeditions in 2013.
The exhibit features many other unique artifacts from the Space Race, including Moon rocks, a lunar roving "moon buggy," the only Viking Mars lander on Earth, space suits and the first Apollo command module.
12. Wings Over Washington at the Seattle Great Wheel at Pier 57
Wings Over Washington is the newest attraction at Seattle's Pier 57, joining the Seattle Great Wheel.
This state-of-the-art "flying theater" transports guests through an aerial adventure high over Washington State.
The 20-minute film features views of Elliott Bay, the Olympic National Forest and San Juan Islands, the Cascade Mountains and Snoqualmie Falls, the Tieton River and the wonders of the Walla Walla Valley Balloon Stampede.
13. Seattle Asian Art Museum (Reopens Februrary 2020)
The Seattle Art Museum will host the grand re-opening of the Seattle Asian Art Museum February 8 and 9, 2020.
After a two-year renovation and expansion, the museum reopens with a reimagined collection installation that breaks boundaries with a thematic, rather than geographic or chronological, exploration of art from the world's largest continent.
Set in Seattle's picturesque Volunteer Park, the historic Art Deco-era museum underwent a $56 million renovation and expansion to more fully display one of the largest collections of Asian art in the nation.
Visitors wishing to attend the historic re-opening weekend on February 8 and 9 can reserve free timed tickets online. Beginning Feb. 12, Museum Month passes will be accepted. Learn more at seattleartmuseum.org.
14. Burke Museum
With 16 million objects in its collections and infinite stories to tell, the recently re-opened Burke Museum of Natural History and Culture – the oldest museum in Washington state – welcomes visitors to an entirely new experience.
Locally known as The Burke, the museum is located at the north end of The University of Washington Seattle campus and re-opened in October 2019.
The new building designed by Olson Kundig creates unprecedented opportunities for visitors to see university faculty, researchers and students uncovering dinosaur skeletons, analyzing insects and collaborating with Native communities every day. Learn more at burkemuseum.org
15. Seattle Art Fair (July 23-26, 2020)
In 2020, the Seattle Art Fair will be celebrating six years as the Pacific Northwest's premier destination to see and purchase modern and contemporary art from the world's leading galleries.
Founded in 2015 by Paul G. Allen, the fair brings together the region's strong collector base; local, national, and international galleries; area museums and institutions; and an array of innovative public programming. Learn more at seattleartfair.com.
16. National Nordic Museum
Seattle has the distinction of having the only museum in the United States devoted to the culture and history of the five Nordic countries: Sweden, Norway, Finland, Denmark and Iceland.
The new 60,000 square-foot National Nordic Museum which opened in 2018 is located in the heart of Seattle's Ballard neighborhood and offers expanded exhibition and program spaces as a landmark destination for Nordic culture in the United States.
17. Go Wine-Tasting
SODO Wine Works is a collective of 10 premium wineries featuring wines from all over Washington State in one convenient location just south of downtown Seattle.
These Washington wineries come together to share their distinct varietals, all locally made to highlight the qualities of the land the grapes were grown on.
Meet the winemakers, tour a winemaking operation, or just sip and relax in a tasting room or outdoor space.
Wineries include Block Wines, Kerloo Cellars, Sleight of Hand Cellars, Rotie Cellars, Structure Cellars, Waters Winery, Latta Wines, Old World Tasting Room, Patterson Cellars, and Nine Hats Wines. Learn more at www.sodo-urbanworks.com/wineries.
18. Ballard Brewery Passport Program
The Ballard Brewery Passport Program connects local craft breweries of the district, featuring 11 breweries within a one-mile radius.
The program can be started by picking up a passport at any participating brewery or Hattie's Hat restaurant in downtown Ballard.
Each location is a unique brewery experience and provides a stamp for visitors' passports.
With the final stamp, participants can redeem their passport to receive a grand prize of Ballard Brewery Passport commemorative drinkware.
The Ballard Brewery Passport program highlights the walkability and quality of Ballard's food, drink, and entertainment options. To learn more about Ballard breweries and the program, visit www.visitballard.com/ballardbrewed.
19. Dine at a New Restaurant
San Juan Seltzery Taproom, Kitchen & Bar
Located at SoDo Urbanworks, inside the San Juan Seltzer production facility, the San Juan Seltzery Taproom, Kitchen & Bar features a taproom with televisions for catching the game, a designated play area for kids, and a heated patio with seating for 20, making the outdoor space welcoming and cozy year-round.
The all-day down-by-the-sea menu flaunts an extensive selection of smaller plates and larger plates, and a menu just for kids.
The bar program features 12 San Juan, classic cocktails, beer on tap and in the can, and a wide selection of wine.
Guests can also enjoy a dessert menu that is best described as "classic with a twist," which includes Fried Donuts, Cheesecake in a Jar, and a Giant Ice Cream Sandwich. For more information, visit www.ethanstowellrestaurants.com.
Bar Taglio
Downtown Seattle's highly anticipated Roman-style bar and pizzeria, Bar Taglio, is now open. The all-day menu is Chef Brendan McGill's take on classic Roman dishes that feature traditional Italian products alongside the best local produce, meats, and fish.
The menu includes Roman-style pizza "by the cut," Antipasti, Secondi, desserts, and an extensive selection of Italian liqueurs.
Located steps from McGill's all-day spot Café Hitchcock, this 62-guest restaurant is stylish yet approachable, with a refined palette of wood floors, mosaic tiles, and relaxed seating. Learn more at www.bartaglio.com.
Momosan Ramen & Sake by Iron Chef Masaharu Morimoto
Iron Chef Masaharu Morimoto, a Japanese master chef known for his innovative and signature style of cuisine, has opened Momosan Ramen & Sake.
This is the third Momosan location, following his first two shops in New York City and Waikiki Beach. Momosan Ramen & Sake showcases Chef Morimoto's innovative and signature style of cuisine through yakitori and Izakaya dishes, Japanese bar snacks, and a selection of sushi.
The 110-seat, bi-level restaurant with an open kitchen offers energetic and casual dining without sacrificing sophistication. Momosan Seattle is now open for dinner service nightly from 5-11 p.m. Learn more at momosanseattle.com.
Soba Noodles at Kamonegi
At her restaurant Kamonegi, Chef Motsuka Soma showcases her years of experience in the art of soba – a uniquely crafted buckwheat noodle stemming from Japan's Edo Period.
Soma learned the intricacies of Edo-cuisine from her grandmother, who passed down a process of making soba by hand and from scratch.
Lucinda Grain Bar
JuneBaby and Salare Chef Edouardo Jordan continues to bring renown to the Seattle culinary scene with the opening of a boutique Ravenna restaurant, Lucinda Grain Bar.
With a menu offering craft cocktails, distilled beverages, and food made from grains found both locally and around the world, Lucinda's explores the possibilities of rare and heirloom grains.
A café by day and a bar by night, this boutique bar's 24 seats are filled on a walk-in basis. Jordan's menu offers pastas, grain bowls, meats, and more–not neglecting to include gluten-free grains.
Aerlume
Perched on the hillside above Elliott Bay and steps from Pike Place Market, Aerlume is a new restaurant with a menu inspired by deeply-rooted connections with local farmers and providers.
You'll find the pure flavors found in the seasonal bounty of the Pacific Northwest. Aerlume relies on seasonality for its menu, sourcing ingredients from a custom farming operation at Fall City Farms and others including Sound Sustainable Farms, Tonnemaker Farms and Frog Hollow Farm.
Ascend Prime Steak and Sushi
Ascend Prime Steak and Sushi opened in June 2019 and since has gained a reputation for their highly executed seafood, sushi, and prime steak from around the world.
On the menu is dry and wet-aged domestic beef, domestic Wagyu from Mishima Ranch (owned by Beecher's Kurt Dammier), and imported Wagyu from Australia and Japan.
Based upon availability and verbally shared with guests at the table is Olive Wagyu Beef from Shodoshima, Japan – the rarest beef in the world. Olive Wagyu is sourced directly from three small farms in Kagawa Prefecture that upcycle wasted olive pulp from olive oil production. Ascend is one of only two restaurants in the U.S. that offer the Shodoshima Olive Beef. Learn more at ascendprime.com.
Bar Hitchcock
Opened in March 2019, Bar Hitchock joins its sibling hot spots on Bainbridge Island – Hitchock and Hitchcock Deli.
The bar features an all-day café and bar with a modern feel where guests can enjoy brunch with friends, a coffee shop workspace, food and cocktails, or a game of cards.
With a menu inspired by hyper-local flavors, Bar Hitchcock serves breakfast, lunch and dinner with a French comfort twist.
The bar program offers seasonal creations and a wine list featuring dozens of wine selections both local and from around the world. To learn more, visit
20. Stay in a Brand New Hotel
Seattle has welcomed a range of new hotels in the last few years. Check out this post on Where to Stay in Seattle: New Hotels.
Set to open in 2020 is CitizenM Seattle South Lake Union – a modern property for modern travelers, featuring affordable luxury, ultra-comfortable beds, 24/7 food and drinks and colorful décor. Their Seattle property will include 264 rooms, all identical in size and amenities. Learn more at citizenm.com.
Read more this post on Where to Stay in Seattle.
---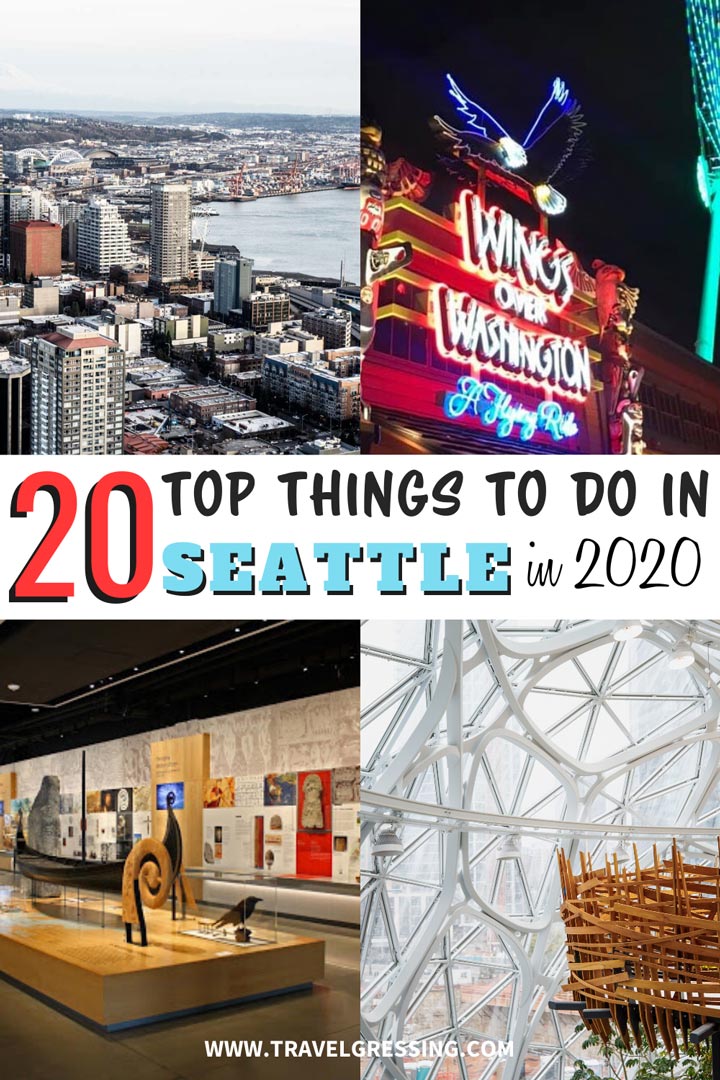 ---
Travelgressing 2020 Travel Guides
Check out more 2020 travel guides that I have put together: