With beautiful beaches, historic sites, and world-class cuisine, Florida is the perfect place to fall in love. Here are my top picks for romantic getaways in Florida.
1. St. Augustine, FL
Known as the "Nation's Oldest City," St. Augustine, Florida has more than four centuries of history that owes much to the Spanish and English, to Greeks and Native Americans as well as African Americans.
St. Augustine has became a vacation destination after several luxury resorts were built at the direction of Henry Flagler, a founder of Standard Oil, who wanted to create a new American Riviera.
The city's Historic District is steeped with Gilded Age romance featuring cobblestone streets, centuries-old Spanish-influenced buildings, hidden courtyards, ornate fountains, and grand monuments.
Explore the grounds of Flagler College, a masterpiece of Spanish Renaissance architecture.
Sttop for a couples' picture in front of the fountain at the main entrance.
Next to the college, visit the Lightner Museum, an architectural masterpiece built in 1888 as the Alcazar Hotel.
Romantic elements of the museum include exquisite Victorian art glass, stained glass works of Louis Comfort Tiffany, and Oriental art.
Enjoy a couples' carriage ride through Aviles Street, also known as the oldest street in America.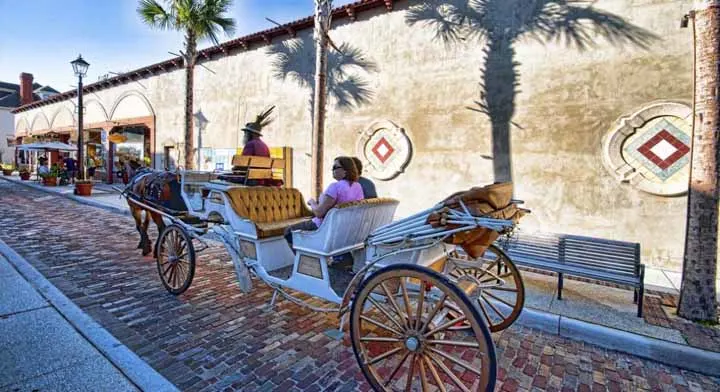 St. Augustine has more than 25 historic hotels and bed & breakfast inns. Some of my top picks are the Marker 8 Hotel which boasts magnificent views of the Downtown skyline and The Kenwood Inn which features elegance, comfort and Victorian charm as it is the city's oldest bed & breakfast.
Other romantic things to do in St. Augustine Florida including visiting the St. Augustine Lighthouse and sailing the sea at sunset on a Schooner Freedom tall ship.
2. Rosemary Beach, FL
Next on this roundup of Best Romantic Getaways in Florida is the hidden beauty of Rosemary Beach on Florida's Emerald Coast, with its modest European charm and pristine white sand beaches.
This planned community, which launched in 1995, is located between Panama City and Destin, on the eastern end of picturesque Highway 30A.
When you arrive at Rosemary Beach, take a walk around the town centre hand-in-hand.
You will feel like you're on a romantic trip across Europe, with its sidewalk cafés, boutique shops, cobblestone streets, and more.
An exquisite butterfly garden is located at Rosemary Beach's northwest corner.
A wooden boardwalk winds its way through vibrant plants, luring butterflies and delighting tourists.
Follow a 2.3-mile fitness trail of sand pathways and boardwalks that includes breaks at pocket parks with fountains and shaded seats perfect for stealing a kiss to as you learn more about the local flora and wildlife.
Just about 15 minutes away from Rosemary Beach is the city of Seaside – made famous in the Jim Carrey film The Truman Show.
Pink, baby blue, aquamarine, coral, and peach are the lovely seashore hues that wash over the town.
The city has three public greens, one of which is lit up with glittering lights and is home to a row of food trucks that serve anything from crepes to grilled cheese and BBQ.
The town's renowned church, with its majestic 68-foot bell tower, is a favorite wedding site for true romantics.
3. Amelia Island, FL
A 90-minute drive south of St. Augustine is laid-back Amelia Island with its 13 miles of rolling dunes and pristine seashore.
Its picturesque beaches are a perfect backdrop for enjoying one of the best romantic getaways in Florida.
Start the day with a sunrise horseback ride on the white sand beach that ribbons the Atlantic Ocean (assistance is provided to make the ride accessible to all ages).
Afterwards, walk arm-in-arm and discover seashell treasures like great heart cockles, sand dollars, and olives.
For couples' pampering, visit the Omni Amelia Island Resort. Book a wellness treatment like a Swedish massage or cleansing facial.
Make a reservation for a romantic dinner at Salt at The Ritz-Carlton Amelia Island – the only five-diamond restaurant in Florida.
Consider booking the Chef's Table in the kitchen for a truly gastronomic experience.
At the end of the day, embark on a sunset cruise to catch the magical oranges, pinks, and reds as the sun dips behind the horizon.
4. Miami, FL
For couples who love food, Miami is the best place to find some of the most romantic restaurants in Florida showcasing a blend of local and global flavours.
Eat your way through Miami's eclectic dining scene with restaurants offering picturesque waterfront and city views.
I have a roundup of the most romantic restaurants in Florida with top choices like La Mar by Gaston Acurio; Seaspice Brasserie & Lounge; and Forte dei Marmi.