2020 has been quite the rollercoaster and you're probably itching to get away, even if just for a weekend. Whether you want to escape to somewhere warm or embrace the cold, here are our top winter vacation ideas in the United States for 2020.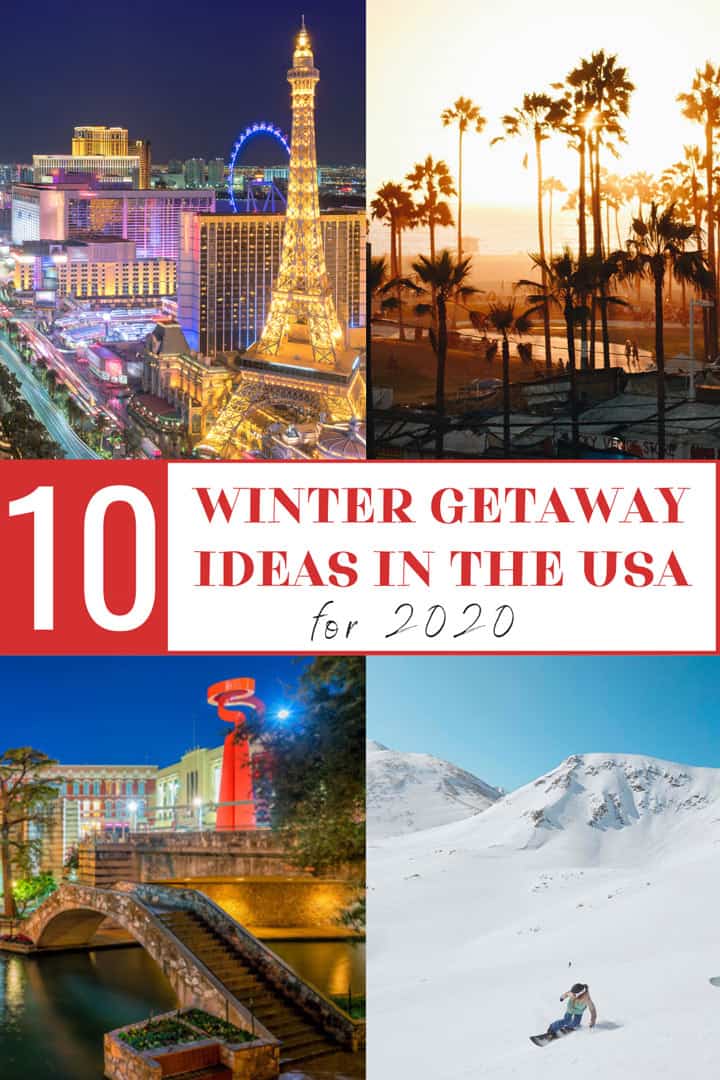 1. San Diego, CA
San Diego is an excellent holiday destination year round – there is plenty of sunshine to go around and the temperature is moderately mild.You wouldn't associate sunny San Diego with wintry weather, but there is plenty to do around the winter or holiday season.
If you head to San Diego around mid-December through April of 2021, you'll be able to witness 20,000 grey whales migrating to Baja California for the winter. These whales make a 10,000 mile roundtrip from their stomping grounds in Alaska to the warmer waters of Baja.
Let the San Diego Bay Parade of Lights dazzle you this holiday season. The boating community in the bay made this parade possible year after year by stringing their boats up in beautiful lights and sailing up and down the coast. This year, you can catch the parade between the nights December 13th and 20th, 2020 starting at 5:30 p.m.
If you're really looking to relax, visit the Aqua Day Spa. This is a Korean spa experience unlike any spa trip you've had before – if you're up to it, all massages take place in a large room with people of the same gender nearby. Folks rave about the Korean body scrub specials offered at Aqua Day Spa, but all of the services offered here are reasonable and unique.
2. Las Vegas, NV
There is plenty to do in Las Vegas during the winter months – truth be told, there is always something to do in Vegas! However, during the winter months, you'll see the gems of Vegas transition into the holiday spirit.
Check out the Bellagio Conservatory and Botanical Garden! While their exhibits are typically unique and quirky, they turn into an absolute winter wonderland come December. If you're headed here between January 12th and March 2nd, you'll catch the Chinese New Year showcases and celebrations at the Bellagio Conservatory and Botanical Garden.
If you're in town during the second Sunday of the month, make your way down to the Container Park for Second Sunday. Second Sunday showcases local musicians, artisans, artists and more. This is a great way to see Vegas on a local level while beating the spring break and summer party crowds.
Hit the ice rink at the Cosmopolitan hotel. Every holiday season, the Cosmopolitan transforms its pool into a 4,200 square foot ice skating rink and if you're not into ice skating, you can roast smores and cozy up by the nearby fires.
3. Sedona, AZ
Sedona offers a unique desert setting, where it's warm enough during the day but the climate dips low enough at night to warm up with some hot cocoa. While in Sedona, book a jeep tour (popular activity that never disappoints). A professional driver will take you on a moderate to extreme off-road adventure through the glorious valleys of Sedona.
Winter is a slower time for Sedona, which means smaller crowds and tons of space in the great outdoors. While you may be envisioning vast deserts with large cacti, imagine yourself at one of Sedona's many vineyards or wine cellars. Instead of hot cocoa, cozy up near the fire with a glass of your new favorite vino.
Sedona inspires a sense of holistic being and healing. You can't help but feel inspired and moved by the natural setting and color palette, making Sedona a great location for spa and healing services. Check out salons and spas in Sedona – we recommend Mii Amo, a destination spa that was voted #1 destination spa by Travel + Leisure that offers full-on journeys within their spa services. It's an enchanting experience like no other.
4. South Carolina
For a more romantic setting, head to South Carolina's Myrtle Beach for a horseback riding session. From November 1st to February 28th, Horseback Riding of Myrtle Beach offers easy breezy horseback rides along the coast of Myrtle Beach. You don't need to be a professional horseback rider to enjoy this completely safe, outdoor experience. Call +1 (843) 997-1876 for more details about how to mount up for this unique South Carolina attraction.
The winter months are primetime for oyster harvesting. As native South Carolina residents say, if the month has an "R" in it, you'll find fresh oysters every time. We recommend Delaney's Oyster House right in historic Charleston. We love the look of Delaney's itself – the restaurant is located in one of historic Charleston's original homes with its vintage, charming architecture. This oyster house gives style to the traditional oyster shucking experience with unique cocktails, beers and ciders and regional ingredients. Any oyster ordered comes with a pick and label so you know what you're eating – it's all in the details!
Head to Hilton Head for a tour of one of South Carolina's most beloved landmarks, the Hilton Head Lighthouse. This iconic red and white striped lighthouse has welcomed people from all over the world to South Carolina. As you climb through the lighthouse, you will pass over five decades of history and find glorious views of Hilton Head coastal views.
5. San Antonio, TX
Explore San Antonio's famous River Walk on land and through water! For $15 USD you can purchase a 24 hour River Shuttle pass that will take you up and down the river walk, which will be decorated for the holidays and lit up at night.
Visit Brackenridge Park, a 343 square foot public park in San Antonio that is surrounded by and also home to many of the city's attractions – the Japanese Tea Garden, the San Antonio Zoo, the Witte Museum and San Antonio's Botanical Gardens. Aside from these attractions, a stroll through this massive outdoor park can warrant some great view of fall leaves exiting their peak color season.
If you're feeling hungry, head to the Historic Market Square – this area is closed off for pedestrians only and boasts some of the best shopping and eateries in San Antonio. During the winter and holiday season, you'll find that many restaurants are decorated for the holidays. We highly recommend visiting Mi Terra Café y Pandería, one of the quirkiest restaurants in the west.
6. Chicago, IL
For many Chicago natives, ice skating at McCormick Tribune Rink in Millennium Park is one of their favorite past times in the windy city. It is one of the only attractions of downtown Chicago that can transport you from the busy city to a winter wonderland. Admission is free – the only thing you'll need to budget for are ice skates (unless you bring your own).
The winter months call for comfort food, and Chicago has authentic cultural cuisines beyond their signature deep dish pizza. Head to the Little Italy area of the city for dinner at the Rosebud. This was one of Frank Sinatra's favorite restaurants in the city as it serves up family made Italian cuisine.
If you want to get into the holiday spirit, visit the Chicago Zoo during their annual ZooLights exhibition. The zoo is covered in large scale displays with over 2.5 million lights, making the zoo glow with holiday cheer.
7. Finger Lakes, NY
The Finger Lakes region in New York is the perfect environment for growing grapes, which is why you should indulge in a Finger Lakes wine tour this winter. Check out the Seneca Lake Wine Trail – mixing the great outdoors and wine tasting, you can visit with a group of up to 6 people and taste the most current wine offerings in a beautiful setting. The winery recommends different attractions and accommodations to make a full weekend out of your experience!
Take a walk through the Taughannock Falls State Park trails! The Taughannock Falls are the tallest waterfalls east of the Rocky Mountains, and a trip to the Finger Lakes region isn't complete until you see this beautiful, national landmark. The Gorge Trail is open year round and was designed for an easy, leisurely hike on flat ground.
What's a winter getaway within an escape into the mountains? Book your escape at Greek Peak Mountain Resort. If you're not a fan of skiing, snowboarding or winter sports, you can indulge in one of the resort's three restaurants, their world-class customized spa, the fitness center, or the 41,000-square-foot indoor water park. There is something for everyone here.
8. Breckenridge, CO
Breckenridge is at a different altitude than most visitors are used to which is why we recommend taking it easy for the first few days you're in Breckenridge. Take a stroll down Main Street – walk down the Blue River Recreation path or ride a fat tire/e-bike! Stop by the O2 Lounge for some fresh oxygen, which helps beat symptoms of altitude sickness, jet lag and more.
Oxygen is also incorporated into many of the services at the Harmony Health Massage & Wellness Spa. Enjoy classic spa services such as massages and facials while looking out over the beautiful Breckenridge mountain range.
Breckenridge is most well known for its ski and snowboard attractions. Head to Breckenridge Ski Resort, which covers five different peaks across the region. Rent all of the equipment you need to experience one of Colorado's best winter sport environments.
9. Washington, D.C.
When night time hits, bundle up and head over to the Smithsonian National Zoo for their annual ZooLights exhibit. All of the light exhibits are environmentally friendly and take shape of the many animals that live at the national zoo.
If you're in D.C. for the Thanksgiving or holiday season, stop by the Downtown Holiday Market. While it may look very different this year compared to past years, this market is still full of local vendors, artists, and musicians. Learn and shop local!
10. Gatlinburg, TN
The Great Smoky Mountains are calling you to visit this winter! Stay at the highest elevated resort in the mountain region, Hearthside at the Preserve. Enjoy one-of-a-kind views of the Smoky Mountains from your hot tub or while cozied up by the fireplace (hearthside, literally).
Go on a Trolley Tour of Lights, a Gatlinburg classic. Let an expert trolley driver pull you around downtown Gatlinburg to witness the city lit up with holiday spirit. The light displays take shape of famous holiday characters you may recognize (Frosty, Santa, reindeer, and more). This is a perfect attraction for families or just anyone visiting.
Now open for in-house dining, grab a bite to eat and a locally made beer at the Smoky Mountain Brewery. Many craft beer companies in the south pride themselves on their story and their legacy, and SMB is no different. Their beers are one of a kind and made with a passion for the craft.